Anthony Magdalinski, D.O.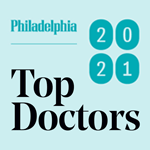 Anthony Magdalinski, III, D.O., completed his fellowship in Hematology and Oncology at Hahnemann University Hospital. Dr. Magdalinksi obtained his medical degree from the Philadelphia College of Osteopathic Medicine. He completed his Internal Medicine residency with Episcopal Hospital and his internship at West Allegheny Osteopathic Hospital.
Dr. Magdalinski has more than 20 years of experience in progressive oncology treatment with special expertise in cancers of the blood.
Dr. Magdalinski is currently a member of the American Society of Hematology, and the American Society of Clinical Oncology.
Dr. Anthony Magdalinski has been chosen by his peers in the 2016, 2017, 2020, and 2021 Philadelphia Magazine's Top Doc List. The list includes the Philadelphia region's best physicians.
To schedule an appointment with this physician, please contact his office at 215-453-3300
Office Contact Info:
Specializes In:
Hospital Affiliations: